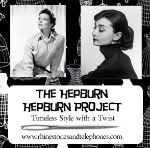 I'm joining the Hepburn Hepburn Project started on the lovely
Rinestones and Telephones
blog. The goal of the project is to infuse your wardrobe with garments inspired by Audrey and Katherine Hepburn. I love love love Audrey and Katherine is also so classic. So I thought I'd start by doing a feature on each of the lovely muses. I decided to start with Audrey as I love her.
One of the things I love about Audrey is that she could be so many things-an innocent girl, a spoiled princess, a Parisian fashionista or a 'modern' sophisticated woman.
She is just so delightfully pretty. I love how she can work all of the lengths of hair-from super short pixie to long elegant up-dos. I have been quite tempted several times to get a short Audrey pixie cut, but have always chickened out. Not to mention, my husband has been trying quite hard to get me to grow out my hair. :/
Black is definitely going to be a must for an Audrey style wardrobe. Who knew a long sleeve top, capris and ballet flats could look so fabulous?
The perfect lbd is also a must have.
You can tell that she is a real person and not afraid to be herself.
Unlike some movie stars of today that I could mention, she was intelligent and worthy of imitation.
Why can't I look like this with a pony tail??? I always look frumpy, but Audrey looks poised and elegant.
I love this photo! Audrey looks so happy and free. I too love biking. I adore this jumper as well. I have a pattern for one, so that's going to be on my sewing list as well.
Audrey was able to remain stylish and fabulous over her lifetime. She stuck with what worked for her and let popular fashion conform to her look, rather than the other way around.
Want more Audrey style? Check out some of these flicks.
Roman Holiday (1953)
Sabrina (1954)
Funny Face (1957)
Breakfast at Tiffany's (1961)
Paris When it Sizzles (1964)
Note: She has done many many others, but these are some of my favorites, both for her acting ability and the vintage fashion.